Healthcare Cost, Quality, and Outcomes:
ISPOR Book of Terms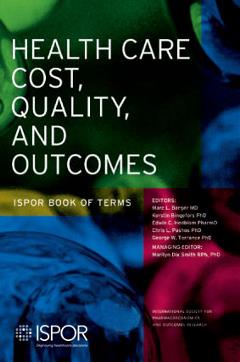 An updated version of the Book of Terms will be made available for purchase in the near future.
"Healthcare Cost, Quality, and Outcomes: ISPOR Book of Terms" includes over 100 monographs covering over 400 terms used in healthcare delivery, management, and regulation, as well as healthcare outcomes research including clinical, economic, and quality-of-life research terms.
This book builds on ISPOR's first publication, "ISPOR LEXICON First Edition," to promote and facilitate greater understanding of healthcare outcomes research and its use in healthcare decisions. It is targeted to healthcare professionals and decision makers to promote informed healthcare decisions assuring healthcare value for money, as well as to healthcare outcomes researchers to promote a better understanding of healthcare delivery and management.
Each monograph includes a key term and a listing of related terms described in the monograph, a brief definition of the key term, an explanation of the use of the key term (and related terms), the value of the term(s), key issues, and 3 to 5 references as well as selected figures, tables, and graphs.
This boo serves multiple functions. It is a useful reference for the outcomes researcher. It is user-friendly lexicon and encyclopedia ('lexipedia") for the healthcare professional to understand healthcare outcomes research terminology and use. It is a comprehensive textbook for teachers of healthcare providers and health outcomes researchers on outcomes research and its application in the healthcare setting.
Over 200 ISPOR members contributed to this book, both as authors and reviewers. Monographs include perspectives of geographically diverse regions, including North America, Europe, Asia, and Australia where knowledge of health economics and outcomes research is increasingly used in the healthcare decision-making process. Listed below are just some of the over 100 monographs in the "Healthcare Cost, Quality, and Outcomes: ISPOR Book of Terms."
Bayesian Analysis | Bootstrapping | Clinical Trial | Cost Benefit Analysis | Cost Minimization Analysis | Cost Utility Analysis | Data Coding Systems | Decision Tree | Disability Adjusted Life Year | Disease Management Drug Marketing | Drug Pricing | Drug Safety | Drug Use Evaluation | Epidemiology | Evidence Based Medicine | Food and Drug Administration | Gene Therapy | Health Economics | Health Utilities Index | Health Years Equivalent | Influence Diagrams | Likelihood Ratio | Managed Care Organization | Medical Device | Modeling | Net Benefit | New Drug Application | Number Needed to Treat | Outcomes Research

Information on the Authors
CO-EDITORS
Marc L. Berger MD, Vice President, Global Health Outcomes, Eli Lilly and Company, Indianapolis, IN, USA
Kerstin Bingefors PhD, MSc, Associate Professor, Biomedical Centre, Uppsala University, Dept of Pharmacy; Pharmacoepidemiology and PE, Uppsala, Sweden
Edwin Hedblom PharmD, Manager, Clinical Research & Discovery Center, 3M Medical, St. Paul, MN, USA
Chris L. Pashos PhD, Vice President and Executive Director, Abt Bio-Pharma Solutions, Inc. - HERQuLES, Lexington, KY, USA
George Torrance PhD, Professor Emeritus, McMaster University, Principal Consultant, i3 Innovus, Toronto, ON, Canada
MANAGING EDITOR
Marilyn Dix Smith RPh, PhD, Founding Executive Director, ISPOR, Lawrenceville, NJ, USA

Berger ML, Bingefors K, Hedblom EC, Pashos CL, Torrance GW. Health Care Cost, Quality, and Outcomes: ISPOR Book of Terms. Lawrenceville, NJ: ISPOR, 2003.