Chapter Activities
Congratulations to ISPOR Kyrgyzstan Regional Chapter!

ISPOR Board of Directors Approved the Formation of Kyrgyzstan Regional Chapter

ISPOR International Development Team (Asia, Africa, Europe, and Oceania) is happy to acknowledge that the ISPOR Board of Directors unanimously approved the formation of ISPOR Kyrgyzstan Chapter with congratulations and many thanks to Doctor Bermet Baryktabasova, MD, PhD, President of the ISPOR Kyrgyzstan Chapter for the leading mission in its creation. ISPOR Kyrgyzstan Chapter is welcome to the ISPOR family of Chapters!

We are proud that Kyrgyzstan is takingstrong steps using science-based decision-making and is advancing implementing the reforms in the healthcare system according to successful international practices.

ISPOR's presence through ISPOR Kyrgyzstan Chapter will provide the opportunity to spread knowledge about health economics, encourage research in the field and act as a resource in forming public policy, promoting health economics, increase communication level between government institutions and healthcare sectors.

ISPOR Kyrgyzstan Chapter under the leadership of Dr. Bermet Baryktabasova is very optimistic about the planned upcoming Activities of the chapter:

Promote the development of HTA in the country getting involved the decision and policy makers, stakeholders. Develop National HTA Startegy and Guidelines for HTA processes;develop strategic, business and operational plans for the education on pharmacoeconomics and outcomes research in the country; Involve key stakeholders, policy a nd decision-makers in organizational aspects for independent and objective analysis free from influence of manufacturer and decision makers; build a multidisciplinary team for the right mix of skills (policy makers, regional health authorities, drug plan managers, hospital managers, researchers, health economists, information specialists, clinical expwerts, other health professionals; actively participate in Asia Consortium activities.
---
Contact Information
ISPOR Kyrgyzstan Regional Chapter Office

Republic Scientific Medical Library
Kyrgyz Republic Ministry of Health
Bishkek, Kyrgyz Republic

E-mail: b_baryktabasova@chsd.med.kg

Chapter Leadership
| | |
| --- | --- |
| President | Bermet Baryktabasova, MD, PhD |
| President-Elect | Nurlan Brimkulov, PhD |
| Secretary/Treasurer | Saltanat Moldoisaeva, PhD |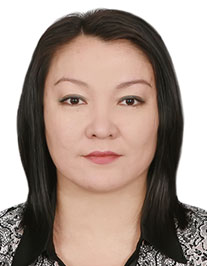 Dr. Bermet Baryktabasova, MD, PhD, President of ISPOR Kyrgyzstan Chapter, State Coordinator,Evidence-Based Medicine and Development of National Clinical Guidelines and Protocols, Ministry of Health, Bishkek, Kyrgyz Republic