Chapter Activities

Health Technology Assessment Development in Eurasian Economic Union

ISPOR Kazakhstan Chapter was a co-organizer of the International Scientific and Practical Conference in Astana, Kazakhstan

International Scientific and Practical Conference Health Technology Assessment Development in the Eurasian Economic Union, has been held on April 27-28, 2017 in Astana, Kazakhstan.

This Conference was devoted to issues of developing the health technology assessment (HTA) system and funding innovative and costly health technologies in the Eurasian Economic Union (EAEU) countries.

This event was aimed at consolidating HTA efforts in the EAEU, establishing an expert platform for determining further development route and prospects and possibilities for HTA integration in the EAEU countries as well as educating on basic HTA principles.

The conference has been attended by leading EU and EAEU experts in HTA and drug provision as well as representatives of ministries of healthcare and medical insurance funds of the EAEU member countries.

The conference was organized by the ISPOR Kazakhstan Chapter and ISPOR Russia HTA Chapter; has been supported by Ministry of Health and Social Development of Kazak Republic, Board of the Eurasian Economic Commission, Ministry of Health of the Russian Federation, Financial Research Institute of the Ministry of Finance of the Russian Federation, and Interparlamentary Assembly of the CIS Member Nations.

Hilton Garden Inn Astana, Astana, Kazakhstan hosted the conference.

The preliminary agenda of the conference and the summary of the topics discussed during the conference are attached.

ASTANA- HTA Development in EAEU Preliminary Agenda
Astana_Eurasian Union Conference
---
ISPOR Kazakhstan Chapter in Singapore and Vienna, Austria

ISPOR Kazakhstan Chapter Leadership are Active Participants in ISPOR 7th Asia-Pacific Conference and the 19th Annual European Congress in Vienna, Austria

ISPOR Kazakhstan Chapter President: Professor Alexandr Kostyuk, Professor Talgat Nurgozhin, Vice-President, Alima Almadiyeva, Student Chapter President have been an active participants at the ISPOR Asia-Pacific Conference organizing a very productive meeting with the Ukraine Chapter Leadership: Professor Olha Zaliska, President of the Ukraine Chapter and Oresta Piniazhko, Vice-President. The participants of the meeting had a very fruitful discussions about the training in Pharmacoeconomics in the Kazakh educational establishments as well as the application of the HTA process in the Republic of Kazakhstan. It was extremely interesting for both chapters' representatives to share the experiences in the healthcare innovations in Kazakhstan and Ukraine. The new approaches in HTA and their applications in Kazakhstan and Ukraine.

The discussion between both countries had the continuation during the ISPOR 19th Annual European Congress in Vienna, Austria. Kazakhstan representatives attended the Ukraine Chapter Meeting and participated in the interesting discussions about MCDA with their ukrainian colleagues.

Professor Alexandr Kostyuk was a speaker at the ISPOR Russia HTA Chapter meeting about the implementation and the harmonization of HTA methods in Eurasian Economic Union countries.

The active participation of ISPOR Kazakhstan Chapter members at ISPOR meetings, Congresses and regional conferences is greatly appreciated!
---
ISPOR Kazakhstan Chapter Achievements!

ISPOR Kasakhstan Chapter Great Accomplishments in the Asia-Pacific Region
Established in January 2012, Kazakhstan ISPOR Chapter (Kazakh Society for Pharmacoeconomics and Outcomes Research) is considered to be among the most active and dynamically developing chapters, not only in the Asia-Pacific region but also worldwide.

Currently, Kazakhstan ISPOR chapter brings together more than 60 leading Kazakhstani experts in the field of health technology assessment, pharmacoeconomics, clinical research and evidence-based medicine.

Representatives of Kazakhstan ISPOR chapter each year participate in all major international ISPOR events (scientific presentations, participation in HTA training programs, roundtables, invitational chapters' meetings, poster and podium presentations). As the indicator of the scientific activity of Kazakhstan ISPOR chapter, it is gradually increasing amount of Kazakh abstracts published in the reputable Value in Health journal, having an impact factor 3.279. So, in 2011 2 abstracts were submitted, in 2012 - 3 abstracts, in 2013 were 8 abstracts, in 2014 - 11 abstracts and in 2015 - 13 abstracts. Two ISPOR Student Chapters have been formed with the assistance and guidance of ISPOR Kazakhstan Chapter leadership.

Kazakhstan Chapter was the first ISPOR Chapter created in Central Asia and has been a key organization in the assistance and collaboration in the formation of Kyrgyzstan, Tajikistan, and Uzbekistan Chapters in Central Asia. Dr. Alexandr Kostyuk, the President of the Kazakhstan Chapter is working with the Presidents of ISPOR Central Asian chapters in further formation of the Central Asia Network grouping the countries with the common language, similar health care systems and political structure. Due to the active cooperation of Kazakhstan ISPOR chapter with the neighbouring Central Asian countries, such as Kyrgyzstan, Tajikistan and Uzbekistan, the implementation of HEOR and health technology assessment has been largely promoted among the decision makers of those countries.

In 2015, ISPOR Kazakhstan Chapter has been the local co-organizer and the host of the first ISPOR HTA Regional Training Program in Asia (22-24 September 2015, Astana, Kazakhstan). Asia-Pacific HTA Roundtable took place in Astana, Kazakhstan (25-26 September 2015) co-organized by Kazakhstan ISPOR chapter in cooperation with ISPOR HTA Council and ISPOR Asia-Pacific Consortium of HTAnetAsia. The Asia-Pacific HTA Roundtable was co-chaired by Chief Executive & Scientific Officer of Kazakhstan Agency for Health Technology Assessment and President of Kazakhstan ISPOR chapter – Dr. Alexander Kostyuk who has received numerous thankful communications from International Society for Pharmacoeconomics and Outcomes Research (ISPOR) CEO and Executive Director.

The above mentioned scientific events in Astana, Kazakhstan signified recognition of the Kazakhstan role in the development of health technology assessment in the Asia-Pacific region which had been achieved through the activities of the Kazakhstan ISPOR chapter.

The next step in recognition and strengthening of ISPOR Kazakhstan Chapter's role in promoting ISPOR initiatives in Asia-Pacific region was the designation of Dr. Alexandr Kostyuk as a judge to the "Cancer" poster session at the ISPOR International Meeting in May 2016, in Washington, DC, USA. This is the first time ever when an expert from Kazakhstan and CIS countries has been awarded such honour!

ISPOR Kazakhstan Chapter is actively preparing for the upcoming ISPOR Asia-Pacific Conference in Singapore organizing the meeting with the Central Asia Chapters on the advancements and state of HTA in their countries.

---
3rd International Scientific Conference "Regenerative Medicine and Healthy Aging"

ISPOR Kazakhstan Chapter is a Co-organizer of the 3rd Scientific Conference, Astana, Kazakhstan

ISPOR Kazakhstan Chapter is a co-organizer of the 3rd International Scientific Conference "Regenerative Medicine and Healthy Aging". The Conference will be held on May 22-23, 2014 at the PI Center for Life Sciences, Nazarbayev University, Astana, Kazakhstan. The Executive Committee of the ISPOR Kazakhstan Chapter: Professor Alexandr Kostyuk, Professor Talgat Nurgozhin, Professor Talgat Mazhitov, Doctor Sholpan Kaliyeva, Alima Almadiyeva, Carina Bectrur together with the other members of the chapter are organizing special activities during the conference: workshops, issue panels and special meetings on Health Technology Assessment (HTA) and Pharmacoeconomics. Many attendees from neighboring Countries from Asian continent, from ISPOR Asia Consortium as well as from Europe and USA are expected to participate in the Conference. This Conference will strengthen research potential of Kazakhstani scientists and it will become a one of the major platforms fro colaboration with the international scientific Communities in the area of modern biomedical research.

Central Asia Countries
3rd International Scientific Conference "Regenerative Medicine and Healthy Ageing" - Center for Life Science, Nazarbayev University
---
Contact Information
Kazakhstan Regional Chapter Office

Kazakhstan Association Of Health Technologies Assessment,
Evidence-Based Medicine And Pharmacoeconomic Research
8, Kumisbekov street, entrance 20
Saryarka district,
010000 Nur-Sultan, Kazakhstan
email: kazspor@gmail.com
website: www.kazspor.kz
Tel: +77172653571
Chapter Leadership
| | |
| --- | --- |
| President | Konstantin Garkalov, MD, PhD |
| Past President | Alexandr Kostyuk, MD, PhD |
| President Elect | Alima Almadiyeva, MD, MSc |
| Secretary | Marat Sultanov |
| Treasurer | Karlygash Absattarova |
| Director | Bakytgul Yermekbayeva |
Alexandr Kostyuk, MD, PhD, President of the ISPOR Kazakhstan Chapter, Head of Center of Clinical Excellence at Republican Center for Healthcare Development, President of Kazakhstan Association of health technologies assessment, evidence based medicine and pharmacoeconomics research «KazSPOR» Chairman of the HTA Expert Group at Joint Committee for Quality Healthcare Services MoH
Dr. Alexandr Kostyuk, President, ISPOR Kazakhstan Chapter with Prof. Shavkiya Pochodzhanova, President, ISPOR Tajikistan Chapter, Alima Almadiyeva, Executive Director, Kazakhstan Chapter at the meeting in Milan.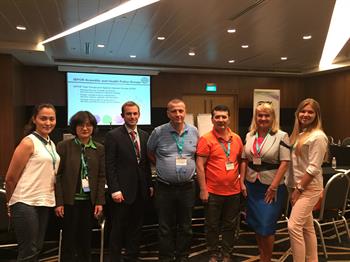 ISPOR Kazakhstan and Ukraine Chapter Leadership Meeting during the ISPOR 7th Asia-Pacific Conference in Singapore