Exhibits
ISPOR hosts the leading global scientific and educational conferences in the field of health economics and outcomes research (HEOR). ISPOR conferences are attended by thousands of leaders and experts representing all facets of healthcare, including researchers and academicians, regulators and assessors, decision makers, clinicians, industry, and patient representatives.
We are currently enhancing online functionality of the eweb portal, including improvements to our complimentary registration process. As a result, purchasing and complimentary registration functions will be under construction until March. Please click the exhibit opportunities page below or here to get started! ISPOR will invoice you directly based on your selection.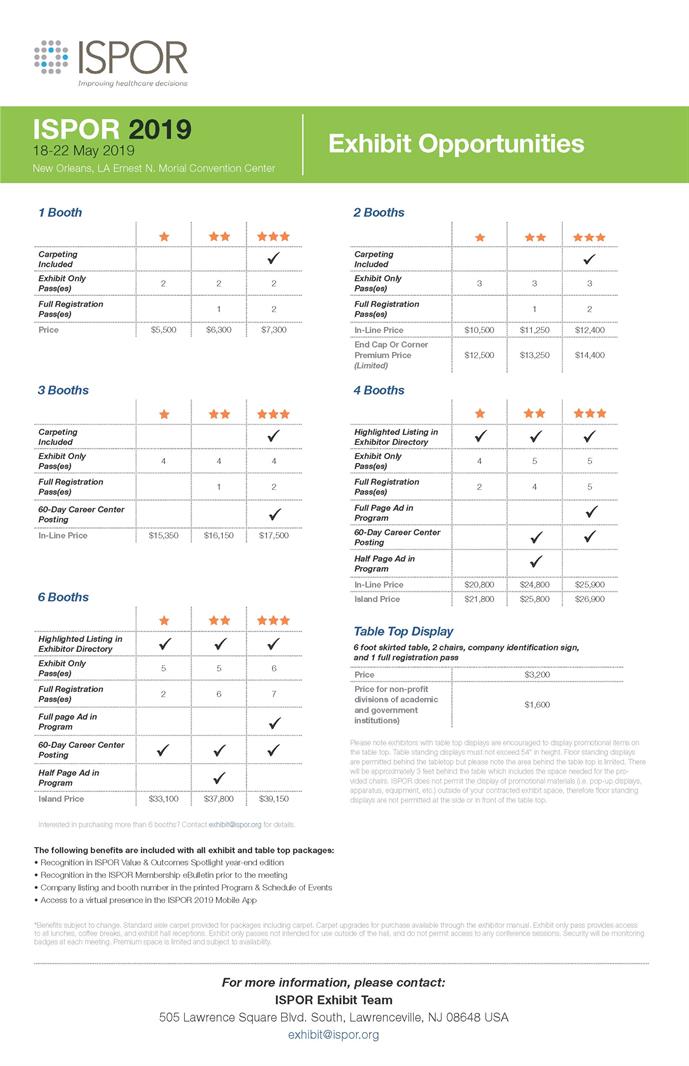 New In 2019: When selecting a 2-booth premium you have the option of an end-cap or corner. It is important to note that we have a limited number of end-caps and corners to offer. Timing of your purchase is very important and reserving either an end-cap or corner booth does not guarantee a premium location. The max height for inline, end-caps, and corner booths in 2019 is 8 feet high. The max height for islands is 16 feet and NO hanging signs are permitted. ISPOR will begin assigning space within the month of February. ISPOR is ultimately responsible for assigning all exhibit space. The floor plan is subject to change.
Thank you for your support as we continue to grow and improve in 2019 and beyond! Please check back periodically for updates. Email us with any questions.